Is it Rising or Penetrating Damp?
We have all experienced condensation or damp in our properties at one time or another. Residing in a home with dampness present can be risky for the health of everyone living in it. Dampness in a property can come from all sorts of sources. It is crucial that you understand how the property is constructed, especially with older buildings. Damp can lead to issues with the property if not treated, which is why it is essential to address the issue as early as possible. The longer the issue remains untreated, the problem will surely worsen resulting in much more expensive repairs and even replacement.
Determining whether the problem is rising or penetrating damp is critical. The misdiagnosed damp issue will result in ineffective damp proofing treatment and measures.
Rising Damp: What is it?
Rising damp is a form of damp that is somewhat rare and affects building walls. Rising damp happens when moisture coming from the ground elevates through the walls as a result of capillary action. Water in the ground is absorbed through very small tubes in bricks which are comparable to straws. The most common sign of rising damp occurrence is a tide mark on the wall. The water that rises up the wall contains soluble ground salt as well, which are deposited as damp evaporates within the masonry.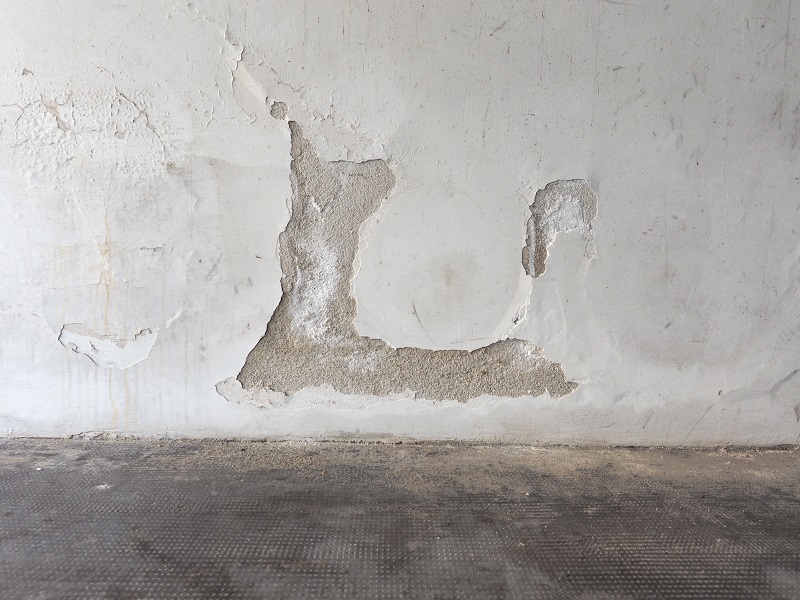 These salts will cause the paint to bulge or bubble with fluffy white deposits on the surface. There are two types of salt involved – hygroscopic salts (nitrates and chlorides) which draw moisture continuously and should be treated immediately, and sulphates which cause the white crusty patches on the wall.
Rising damp is often misdiagnosed and confused with condensation, but there is a way to identify them correctly. The most reliable way to discern between rising damp and dampness due to condensation is to compare moisture content in the masonry or mortar. If the inside of the wall is damp, it is rising damp. An electrical moisture meter can be used to identify the moisture content. Rising damp can rise up to 1.5 metres or higher in rare cases.
Rising and Penetrating Damp Prevention and Treatment Services in London
Damp Proofing Can Help Prevent
Rising / Penetrating Damp
Ingress of Water
Salt Crystallization
Plaster Breakdown
Damp Staining
Wet Rot / Dry Rot
What are the Causes Rising Damp?
Rising damp is only limited to ground floor levels, wherein the moisture from the soil permeates up the wall. The damp-proof membrane or damp-proof course is a barrier installed in the walls that inhibits the moisture from going up further. Modern properties most likely have the barrier installed but it may not be present in older buildings. If the damp-proof course is faulty, damaged or missing, the property is susceptible to rising damp. Rising damp also happens when the ground level outside is higher than the floor level inside the property. Rising damp is not always caused by outside sources. For the past 20 years, condensation has become the most common factor that produces rising damp in homes as well.
What are the Symptoms and Signs of Rising Damp?
Rising damp starts to form mould growths in timber, which causes it to rot. Green, white and black mould growths are present. Deterioration of paint and blistering or peeling of wallpaper are also indications of rising damp. Dark patches that are damp to touch can be an obvious sign as well. Outside walls may have discolouration. Salt stains begin to show up on the walls and the mortar may break. Rising damp can also cause iron and steel fasteners to rust. If the occupants of the building start to have respiratory illnesses, rising damp is likely the culprit due to the musty smell and spores from mould build-up. In severe situations, the affected wall may cause plaster or mortar to fall away and deteriorate. Rising damp can also cause tide marks, crumbling skirting boards and powdery, white substance on floors and walls (mineral deposits).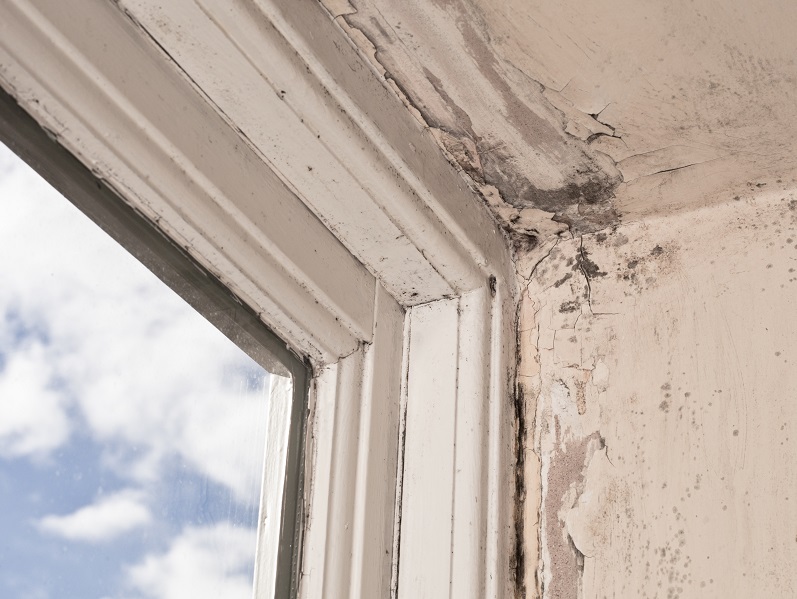 How is Rising Damp Treated?
If a blocked cavity wall is causing the rising damp, you can just simply unblock it. If your damp-proof course is perfectly fine, the dampness could be caused by the ground outside that has expanded above the damp-proof course (15 cm above the ground). You can dig away the excess soil from the outside wall beneath the damp-proof course level. If you do not have a DIY background, it is better to seek help from an expert.
A damp-proof course can also be installed to prevent the moisture from rising further. The barrier can include pore blocking salt mixture, water repellent chemicals and osmotic water repellents. If the damp-proof course or damp-proof membrane is faulty, you can replace them. Another solution is tanking the walls, which means the wall is given protection from moisture by sealing it.
Penetrating Damp: What is it?
Penetrating damp is a result of water seeping through the walls. Areas exposed to harsh weather conditions are prone to penetrating damp. If it rains frequently and comes to contact with the wall, saturation happens, which makes the isolated patches increase in size. Penetrating damp can affect all ages of properties, but older ones are more susceptible. This type of damp has two categories:
Lateral Penetrating Damp typically takes place on external walls where the level of the external ground is higher than the floors inside the property. A perfect example of lateral penetrating damp is the basement.
Vertical Penetrating Damp is caused by defects in the building and its poor maintenance. Some of the most common causes of vertical penetrating damp are blocked downpipes and guttering, roof defects, defective rainwater goods and leaking. These are also responsible for the occurrence of dry rot.
Free No Obligation Site Damp Surveys
Contact Southern Damp Proofing Now to Speak With an Expert
What are the Causes of Penetrating Damp?
Penetrating damp is typically caused by structural issues in a property or building, like defective brickwork, faulty roofing covering or guttering, defective joints between walls and windows, leaking rainwater pipe, and crack on the walls. Internal leaks can also aggravate penetrating damp (e.g., pipes found under the bath or sink). Pointing, brickwork and render can be deteriorated with frost, age and physical damage. The absence of any form of waterproofing system will also cause penetrating damp.
Penetrating damp is an indication that the roofs or walls are frequently soaked with water. Penetrating damp below ground, on the other hand, is caused by water from the ground that seeps into and out the masonry.
What are the Symptoms and Signs of Penetrating Damp?
There is ingress of water.
Damp patches which can be found on ceilings and walls. These patches may darken when raining.
Circles of damp that increase in size found on walls or ceilings.
Uneven patches found on walls.
Crumbly and wet plaster.
Puddles and drips.
What are the Most Common Areas that Can be Affected by Penetrating Damp?
Window Frames. These are inspected for the presence of cracks or gaps around the frame. These gaps and cracks will let the water come in and cause dampness.
The Roof. Look for the tiles, roof ridges tiles, pointing and flashing. If any of them is loose or missing, maintenance is needed to prevent penetrating damp.
External Walls. Look for pieces of mortar that are missing and the presence of cracks in the masonry. If they are observed, they can be repaired with the correct filling material to prevent penetrating damp.
Door Frames. Look for cracks around the door frame and repair them if present. Look for the presence of a weather bar as well, as it helps in preventing penetrating damp. Install a weather bar if there is none.
External rainwater downpipes, gutters and drains. Check them for cracks or leakage. Damage in the rainwater goods can be a source of penetrating damp.
How is Penetrating Damp Treated?
The most important thing to do is to get rid of the main source of moisture by inspecting every area in and around the building. Look for defects in the gutters, flashing, downpipes, window frames and rendering. Make sure that the gutter is free from obstruction, but if it is, consider replacing the guttering. If you find any gap around the window frame, you can seal it. You can also remove any debris in the cavity wall if you find any. The debris acts as a bridge for dampness from the outer wall to the inner wall of the property.
The waterproof coating could also be used on the external wall. The coating will form an impenetrable barrier against moisture and it will repel water as well. Fungal growth can also be prevented by the said coating.
For penetrating damp below ground, treatment is a little bit more complex. It is best if you hire a professional to do the job. An expert will apply a cementitious survey or plastic membrane in the masonry.
Seeking help from an expert will ensure that your damp problem is dealt with properly and professionally, resulting in the application of the right damp proofing treatment.
Information about London
Southern Damp Proofing is proud to offer Rising & Penetrating Services.
London is a beloved Capital City located in the heart of Greater London in England.
London's sightseeing opportunities include Three Mills, River Thames, Canary Wharf, and Hatton Garden.
As a result of its location, a number of rivers and water ways inlcuding River Thames, Kensington Canal, and London River Services are found within London.
London's local authority/administrative division is a Devolution In The United Kingdom.
London is based within Greater London.
London is associated with the Dormers Wells, Forest Hill, Northolt, Motspur Park, and Brondesbury Park shire administrative regions.
The wards and electoral sub divisions of London also include Kew, Barnes, Brentford, and Teddington.
Capital City's including London are split are representated parliamentary constituencies such as Kensington and Chelsea (UK Parliament constituency), Battersea (UK Parliament constituency), Chelsea (UK Parliament constituency), Westminster (UK Parliament constituency), and Westminster Abbey (UK Parliament constituency).
The Capital City of London additionally includes villages such as Arkley, and Harefield in its administrative area.
London contains a number of settlements including Chessington, Blendon, Harefield, Tufnell Park, Hillingdon, Tottenham Hale, and Woodford.
Southern Damp Proofing's Rising & Penetrating Services area like-wise encompasses Hampstead, Sutton, Cockfosters, Paddington, and South Acton in the Capital City of London.
Other service areas of Southern Damp Proofing in London, England are comprised ofColliers Wood, Pimlico, Seven Kings, Bermondsey, and Edgware,
in addition to London's outer urban areas Gunnersbury, Three Mills, Notting Hill, Bexleyheath, and Brunswick Park.
Last in order but nevertheless important, Southern Damp Proofing's Rising & Penetrating Services cover the wider London area including Finchley, Dulwich, Hampstead Garden Suburb, Upper Clapton, and The Hyde.
Beckton, Hendon, Hook, South Hackney, and Lewisham is within the constituency of London, Greater London.
Towns including Dartmouth Park, Anerley, Mitcham, Albertopolis, and Norbury are located in London.
Other towns located within the Capital City of London include Kingston upon Thames, Croydon, Enfield Town, Bromley, and St Mary Cray
Lister Institute of Preventive Medicine, and Institute of Cancer Research in London are famous through out the England and the United Kingdom.
Amongst the numerous schools and further education establishments in London are Thames Christian School, and The Hampshire School.
Additional educational institutions within London is the Carlyle's House, and Saatchi Gallery.
Crystal Palace, Cadogan Place, and St Luke's Church are enjoyed by London residents and famous through out England.
Hatton Garden, Elephant and Castle, and Lillie Road are intrinsic to London transport infastructure.
London's reknown can be attributed to its diverse heritage including Statue of Charles II, Royal Hospital Chelsea.
Withing the boundaries of London, Grosvenor Bridge, Cohen House, Canary Wharf, Hanger Hill, and Enfield Island Village of special interest.
Many churches are still located in London, Church of Our Most Holy Redeemer and St Thomas More, Lady Margaret School, and Chapel at College of St Mark and St John to name but a few.
Three Mills, Merton (parish), Brixton, Battersea Railway Bridge, and Shepherd's Bush are but a few of the important parts of the history of London.
Canary Wharf are London's main business districts.
The Capital City of London is home to a number of businesses including Chelsea Bun House, Wilkinson Sword, and Moonpig.
London is a centre of commerce and shopping centers such as Peter Jones (department store) are famous.
FAQ's
What are the Measures I Can Do to Avoid Damp Problems?
If you notice any condensation build up around your home, dry it up. Damp and mould won't thrive in dry areas.
Proper air ventilation is key. You can simply open the window to let the moisture escaper from inside your home. You can have air vents installed as well.
Keep cold surfaces in your home insulated because this is where condensation develops.
Invest in a dehumidifier for your home. This will remove the moisture from the atmosphere, thus preventing the formation of damp in your home.
What are the Problems Caused by Damp?
Damp can cause decorative spoilings, such as rots in floor joists, skirtings, ceilings, floorboards and wall plates. Damp can weaken the structure of the affected building as well, resulting in the erosion of stone and brickwork. For wood,
damp
can cause wood rotting fungal decay. Dampness can increase heat loss, resulting in higher electric bills. Frost damage to the masonry can also be present. Long-term exposure to
damp
can also cause health issues for the occupants, such as asthma, reduced lung function, allergies and more due to mould growth. There is a recent study that indicated that
damp
problems in the home can lead to depression.
It is highly important to address the damp issue once it is detected no matter how minor it may seem. The real problems happen when the damp problem is allowed to spread and develop spores.
What is the Long-term Solution to Rising Damp?
You should frequently check your
damp
-proof course to avoid rising
damp
from occurring again. The integrity of the wall structure of your home should be maintained. Keep your property dry at all times and promote the proper circulation of air. Installation of moisture barriers can be of great help as well. You can also install passive moisture sinks to deplete the penetration of water to the foundations.
Constructing a wall with cavities may prevent moisture from penetrating into the building. If you are planning to renovate or build a new home, you should consider this as well. The cavity should be thoroughly ventilated.
If you require an appropriate and long-term solution for your rising damp problem, we at Southern Damp Proofing can provide you with exactly what you need. We have professional surveyors and damp proofing technicians to assist you at all times.
How Do I Effectively Deal with the Damp in my Property?
When you suspect or discover a
damp
problem in your property, you can ask for a second or third opinion to avoid paying for unneeded treatments that would be a waste of time and money. Damp problems are misdiagnosed in many instances, that is why it is necessary to be certain of the type and severity of the
damp
issue your property has before applying any treatment. You could consider if the issue is caused by leaking pipes,
condensation
, faulty guttering, damaged plumbing, substandard surface drainage, or air bricks that are blocked.
How Can I Keep My Property Dry?
Allow air to circulate around your home by opening the windows, which will promote air movement.
Wet clothes, shoes and boots should be hung outside to dry, such as the utility room, garage and porch.
Avoid putting furniture against outside walls so air can freely circulate.
Radiators should be clear of obstructions such as furniture.
Avoid overfilling wardrobes and cupboards.
Do not block up a fireplace. You can install an air vent to promote ventilation.
Can I Fix the Damp Issue Myself?
If you want to avoid costly treatments, there are DIY procedures you can do to solve your
damp
problem, such as resealing and fixing windows and door frames, applying water repellent layer to the masonry, applying
damp
proofing
injection
cream
, and repointing mortar. For more complicated issues, you will be needing a professional to do the job for you. Make sure that you hire a team that is worth your money.
How Can I Identify What Type of Damp My Property Has?
Rising
damp
is where the moisture moves up the wall from the ground while penetrating
damp
spreads horizontally. Penetrating
damp
provides a high reading when a
damp
detector is used. Salts are present in rising
damp
but not in penetrating
damp
. There are other distinct features that you can look out for. Feel free to reach out to us at Southern Damp Proofing if you think your property has a
damp
problem. We provide
damp
proofing treatment options that will suit your preferences and get rid of the
damp
problem once and for all.
Why is Treating Rising or Penetrating Damp in a Timely Manner Important?
Both rising and penetrating
damp
can cause considerable stress to the property owners. People with asthma, breathing problems and allergies are at risk with the presence of penetrating and rising
damp
. When dealing with any kind of
damp
, it is necessary to determine the root cause of the issue. Rising penetrating
damp
is perhaps the costliest
damp
to treat. Regardless of the severity of the
damp
, it is essential that the job is done correctly. That is why here at Southern Damp Proofing, we provide a professional and reliable specialist survey to effectively deal with any
damp
issue and deliver the right
damp
proofing treatment for penetrating and rising
damp
. We also offer solutions for woodworm and
rot
issues. Our surveys are done in compliance with the Proper Care Association 'Code of Practice'.
How Much is the Cost for Damp Treatment?
The cost will depend on the severity of the
damp
problem, size of the building, and the root cause. You can call us at Southern Damp Proofing, so our experts can inspect your property and provide you with a quotation.
Any form of dampness in your property can result in further damage. Whether you are noticing the development of rising or penetrating damp in your home, it is essential that you consult an expert. Our specialists here at Southern Damp Proofing will make sure that your damp problem is completely solved, so you can rest easy knowing that your property is damp free. Rest assured that we will respond to your request immediately. We give tips on how to maintain a damp-free property as well.