What is Damp Proofing?
In summary, damp proofing is the term that describes a range of different damp proofing treatments and applications that can prevent problems with damp affecting your property. Damp proofing is more specifically known as a type of waterproofing, where constructive walls will be fitted with a damp proofing barrier, also known as a damp-proof course.
In general, damp proofing your home will keep moisture out of the building, and stop interior moisture from seeping into your walls. This does not mean moisture resistance is absolute, but it is defined by a specific test method, engineering tolerance, and limits.
How Damp Proofing Works
Damp proofing can be accomplished in a number of ways:
A damp-proof course (DPC). A DPC is a barrier inserted inside the structure to stop moisture rising through capillary action. This can help forestall damp problems like rising damp, which refers to a situation where water wells up from the ground and seeps into your home. A damp-proof course can be vertical or horizontal. Typically, a damp-proof course layer is installed below masonry walls, whether it is a partitioning wall or a load-bearing one.
A damp-proof membrane (DPM). A damp-proof membrane is a material membrane that can be implemented to prevent the transmission of moisture. Generally, it involves a polyethylene sheeting, which is placed underneath a concrete slab to prevent the concrete from absorbing moisture. A DPM may be used for a DPC.
Integral damp proofing. This damp proofing method involves mixing extra materials to a concrete mix so the final product is more impermeable and water or other liquid forms are not able to seep through the wall.
Pressure grouting. You can also pressure-grout cracks and joints in masonry materials.
Cavity wall construction. This can be a variety of different solutions, such as rainscreen construction. This is where interior walls are separated from exterior walls by a cavity between them.
Surface coating. Surface coating will be done with thin waterproof materials to repel rainwater and other non-pressurised moistures. It can be a coating of cement, such as shotcrete, so that water can be resisted under pressure.
Damp Proofing Can Help Prevent
Rising / Penetrating Damp
Ingress of Water
Salt Crystallization
Plaster Breakdown
Damp Staining
Wet Rot / Dry Rot
Damp Proofing Services in London
Types of Damp Problems in Homes and Offices
Condensation
You will find that condensation is the most common kind of damp. It is often caused by poor ventilation and moist warm air condensing on cooler walls. This will be the case more often in rooms that generate a lot of air moisture, such as your kitchen or your bathrooms. Usually, it is more of a problem in winter, as it affects cold walls a lot more. If your central heating gets very warm, before cooling down again, condensation can occur as warm, damp air will be created.
Rising Damp
Rising damp is mainly caused by ground water seeping into walls or floors above it. Walls and floors will naturally allow some water in, but a damp-proof course or damp-proof membrane will often stop damage.
Penetrating Damp
Penetrating damp's main cause is water leaking through walls. Penetrating damp will move horizontally across your walls and ceiling, rather than vertically, making it different to rising damp. Penetrating damp is usually exacerbated by problems with the building's structural integrity. These problems can include faulty roofing or guttering, or even cracks in the walls.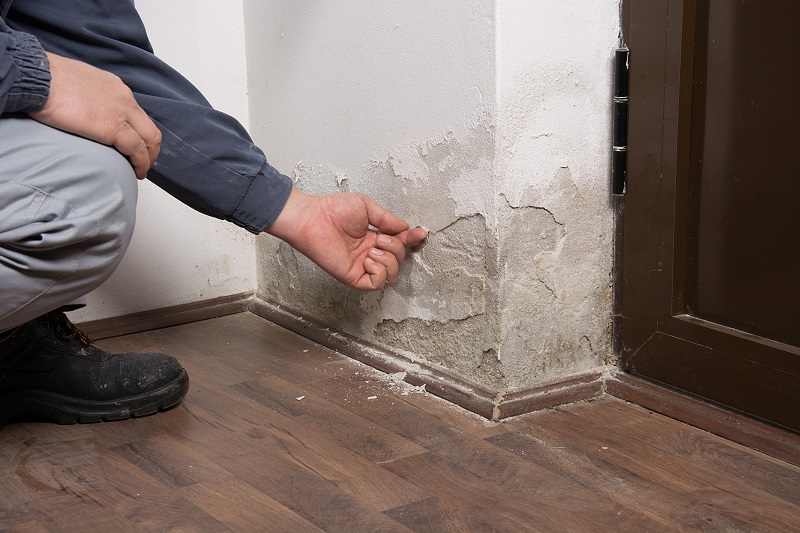 This is as cracks can let water in after heavy rainfall. Leaky pipes can also cause penetrating damp, as this will cause water to leak through your walls. If you live in an older building with solid walls, penetrating damp is more likely. This is because newer walls are often fitted with cavities.
Health Issues
While damp can cause you to feel unwell, if anyone in your family suffers from health issues including breathing difficulties, it will make them feel worse. The mould and mildew that grow as a result of damp makes it more difficult to breathe, as it affects the respiratory system. Dealing with issues with damp will drastically improve the quality of life of anyone with breathing difficulties.
Preventing Structural Issues
While decoration being damaged is one thing, structural issues prevent a whole different host of issues. Fundamental long-term damage can be caused if your damp is not dealt with properly. It is, therefore, necessary to have the right water proofing or damp proofing installed, this way you can prevent wet and dry rot, subsidence, and cracks.
This means that it will cost a lot less to maintain your home in the future, and you will live in a greater peace of mind, knowing that you are safer. Always make sure you get a qualified professional if you need to work on your home.
Free No Obligation Site Damp Surveys
Contact Southern Damp Proofing Now to Speak With an Expert
Why Should You Choose Us?
Southern Damp Proofing have over 25 years experience on the damp proofing industry. We provide excellent quality and customer service, and this forms the basis of our entire business philosophy.
We can also always offer technical and product support on 020 7971 1329 during normal business hours. You can also make technical enquiries on our website. Our main product areas include: the treatment of dampness in buildings, the treatment of timber, whether dry or wet rot, and structural waterproofing.
How Much Will It Cost to Fix a Damp or Rot Issue?
The cost itself will vary depending on the amount of work you need to fix your issue with damp or rot, as well as how bad the problem is. For smaller repairs, it will be possible to carry it out yourself, which will be relatively low-cost. Treatments for condensation, such as buying a dehumidifier or increasing ventilation in your home, may cost a little more, but will give you long-standing results.
Contact Us Today
We are here to help. It can be difficult and daunting to begin to deal with an issue with damp. That's why we're here. If you have any questions about damp proofing or damp related problems, our damp treatment experts will always be happy to help and will give the best advice, and be able to arrange a damp survey. To speak to one of our experts, you can contact us online with our online contact form, or call 020 7971 1329, where you can speak to your local damp proofing specialist.
---
FAQ
What Are Damp Proofing Surveys
There are a variety of different techniques and instruments that can be used to discover the presence of moisture in building materials. When in the right hands, these tools can be invaluable to investigation. However, the experience and expertise of the person undertaking these investigations are often greater than their kit.
Specialist, qualified, and experienced surveyors are the single difference between a misdiagnosis and a correct diagnosis of damp. If condensation, for example, is diagnosed as rising damp, the wrong treatment will be implemented.
Chartered building surveyors can be experienced in identifying issues with damp; however, it is common that their reports will suggest a dampness problem has been investigated by a CSRT qualified damp and timber surveyor.
In order to correctly diagnose your damp issue, our expert damp investigator will assess a variety of factors in order to accurately diagnose the damp. For example, they will inspect the exterior of the building to see if there are any signs of higher ground levels, faulty rainwater goods or penetrating damp. In order to diagnose high moisture readings as rising damp, the investigator must first rule out every possible moisture entry point.
If the diagnosis they give is in fact rising damp, this could be due to a failed existing damp-proof course, or a complete absence of one.
Once a damp survey has been conducted, we will provide you with a full specialist report and quotation. This report will have many recommendations on how to rectify the damp problem, such as a new course of damp proofing, or lowering the external ground level.
What is Structural Water Proofing
Structural
waterproofing
is generally used to describe the
waterproofing
of any structure. But when it comes to property preservation, structural
waterproofing
defines
waterproofing
systems applied to structures with earth-retaining walls. We can provide structural
waterproofing
to the following:
Cellars
Basements
Underground car parks
New build properties with earth-retaining walls
Tunnels
Garages
Structural waterproofing will often deal with water ingress below ground levels. Damp proofing is usually used to deal with problems above ground level. As it'll save you money in the long run, water proofing basements and cellars has become ever more popular. Adding extra rooms to a home can be easily more affordable than moving. Because of this, converting a damp basement or cellar can be extremely economical and can help you increase your living or storage space.
Commercial properties can also benefit from structural waterproofing. Commercial basements and cellars can help with extra office and storage spaces. At Damp Proofing, our staff will be able to provide advice and guidance for projects of any size. Whether it's general advice about damp or waterproofing you require, or specific support with technical drawings and specifications, we can help.
What are Damp Proofing Treatments
Whether you are experiencing a problem with damp in commercial or domestic properties, our damp treatment services can help. We operate in London and provide services throughout the UK. So, whatever the reason for wanting to fix your damp is, damp proofing will be the right choice for you.
Our specialist surveyors will identify specifically what type of damp you are dealing with, and where it is coming from, in order to find the best treatment. Once your damp problem has been inspected, a timber surveyor will perform an inspection for timber decay on all accessible structural timber, whether this be to detect wet rot or dry rot, or a wood boring beetle infestation. If a wood boring beetle infestation is found, a full inspection of the area will be undertaken in order to determine the species of the beetle and the damage it has caused. Then it will be determined whether or not this infestation needs treatment, as many types of wood boring beetle infestations do not require any.
If any wood rot is found in your property, our specialist surveyors will inspect and diagnose what type of rot it is, whether dry or wet. This will then help us give you the correct treatment for your home. So, whatever that damp problem, we will be happy to help. In general, all of our damp courses and treatments are guaranteed to last over 20 years.
How To Know if You Have a Rising Damp Problem
There are some warning signs that come with
rising damp
:
If there are damp patches that start at the bottom of your wall and move upwards vertically.
If your floor covering, including carpet, vinyl or tiles, is wet and lifting.
If you have plaster or skirting boards that is damp or rotting.
If your wallpaper or paint is peeling.
If there are yellow or brown tide marks staining your wall.
If there is a white, powdery salt-like substance on your wall.
It's always best to treat rising damp as soon as possible with a trained professional. This is because if the problem develops, it can be increasingly difficult to deal with, and become expensive.
Why You Should Damp Proof Your Property
Damp proofing has multiple long-term and short-term benefits that you will start to notice right away:
Appearance
Damp proofing in the right areas will improve the appearance of your home. Damp can cause deterioration of wallpapers and other decorative items, therefore preventing this will keep your home looking great. You also won't need to attempt to decorate or paint over patches of damp, which in the long run will look worse when it causes structural issues and degradation. This also means that you will save money on decorative products in the long run.
Smell
Damp and moisture will often lead to mould. Untreated mould can spread around your house, making it smell musty or create a dank atmosphere. This will cause an extremely unpleasant smell. If a better ventilation system is in place, the problem is often solved. Repairs can be inexpensive as long as the right damp proofing products are used, and the right specialist is hired.
Your Home's Value
With the right damp proofing solutions, the value of your home will be improved. If damp is not properly treated, it will often come back. If you choose the correct damp proofing specialists, it will be easier to give potential buyers confidence about your home.
What Is the Process of Damp Proofing?
The first step involves the removal of older plaster.
Holes are then drilled at the base of the wall.
A chemical is then inserted into the holes.
Plaster is then applied within the holes to ensure that chemicals remain where they're supposed to be.
After the first plaster is applied, another plaster will be applied to walls and left to dry.
Once the plaster has dried, the wall will then be repainted.
Information about London
Southern Damp Proofing is proud to offer Our London Damp Proofing services in London.
London is a Capital City in Greater London.
London's main attractions include Three Mills, Canary Wharf, Hatton Garden, and River Thames.
Found within London are a number of prominent rivers and waterways including Kensington Canal, River Thames, and London River Services.
London's governing local authority structure is a Devolution In The United Kingdom.
London is based within Greater London.
London is attributed to shire districts including Bromley, Bethnal Green, Bexley, Ponders End, and St Pancras.
Administrative ward subdivisions of a London also include Teddington, Kew, Barnes, and Brentford.
The Capital City of London is representated at a national level by Westminster Abbey (UK Parliament constituency), Kensington and Chelsea (UK Parliament constituency), Paddington North (UK Parliament constituency), Chelsea (UK Parliament constituency), and Battersea (UK Parliament constituency).
The Capital City of London consolidates hamlets such asHarefield, and Arkley within its border.
London incorporates a number of settlements including Seven Sisters, Gordon Hill, World's End, Barnsbury, Harold Wood, South Kensington, and Forest Gate.
Southern Damp Proofing's Our London Damp Proofing service area in the Capital City of London also encompasses West Ham, Oakleigh Park, Ponders End, Brondesbury Park, and Chadwell Heath
Other service areas of Southern Damp Proofing in London, England are comprised ofTooting, Surrey Quays, Gunnersbury, Enfield Town, and Wapping,
as well as London's outer urban areas Pitshanger, Poplar, Burnt Oak, Colliers Wood, and Wealdstone.
Last in order but nevertheless important, Southern Damp Proofing's Our London Damp Proofing services cover the wider London area including Kensal Town, Chessington, Streatham, Roehampton, and Worcester Park.
Within In London, Greater London you can find several small communities including Fulham, Angel, Hornsey, Wimbledon Park, and Duckett's Green.
In London you find towns like Sydenham, Summerstown, Highgate, Eltham, and Brent Cross.
Additional towns that form parm of the Capital City of London include Barking, Uxbridge, Romford, St Mary Cray, and Kingston upon Thames
Lister Institute of Preventive Medicine, and Institute of Cancer Research in London are prestigious through out England and the United Kingdom.
Well-known schools in London are Redcliffe School, and Sussex House School.
Promoting cultural heritage in London is the Carlyle's House, and Design Museum.
Ranelagh Gardens, Wimbledon Park, and Vauxhall Gardens are popular with London residents and known through out England.
Essential roads and infasructure in London include Herne Hill, Swiss Cottage, and Tulse Hill.
London's reknown can be attributed to its diverse heritage including Statue of Charles II, Royal Hospital Chelsea.
Structures and Buildings of special interest within London include 66 Old Church Street, Elephant and Castle, Albert Bridge, Embassy of Spain, and Regent's Park Estate.
London houses some well known churches including Lady Margaret School, Chelsea Academy, and Chapel at College of St Mark and St John.
Nell Gwyn, Enfield Island Village, Southwark, Chelsea Harbour, and Clapham are but a few of the important parts of the history of London.
London's central business districts include Canary Wharf.
London is the founding Capital City of number of companies including Granny Takes a Trip, Wilkinson Sword, and J Gurney Nutting & Co.
London's shopping centers are famous and people flock to Peter Jones (department store)